ART SHOW ENTRIES 2013
Below are pictures of some of the beautiful art that will be displayed at the banquet.
We extend a huge thank you to the following

Featured Artists

for their commitment this year.
Ben Arstad, TOE-N THE LINE STUDIOS www.toen-the-line.com 425-742-4132
"Red Rocket"
John Barbero
"32 Ford Highboy" "The Mint"
"29 Ford"
"Purple Lady"
Lindsay Butler, Ratface Pinstriping 206-300-4053, ratface83@yahoo.com
"Bird of Prey"
"Cabriolet and Biplane"
"Daddy's Girl"
"Gable"
"American Hot Rod"
Bob Davidson
"The Journey Begins"
"Twisted Shifters" "Big Brudda"
"Norm Grabowski at the Drive-In"
David Gaudin, David G. Photography, PO Box 1285, Gresham, OR 97030 (503)936-1948 https://davidgphotography.com

"1946 Chevy Sedan Delivery"
"Toms T-Bird"
"Driving Fast"
Mike Hennessy
"A Tribute to Carroll Shelby"
Michael "Raii" Jordan"
"Dominic Dobson"
'Irish" John Kelley
"The Road Ahead"
"Golden Years 1" "Golden Years 2"
Josie Lawton, Illusions Custom Paint & Airbrush, Tacoma, WA, www.harleymurals.com
"Marilyn"
"Gray Hot Rod" "Truck"
JR Nelson "STRIPE-N" 5817 Waller Road, Tacoma, WA 98443 253-922-2027
"Seven Souls A Rising" "A Tribute to Big Daddy Ed Roth"
Tom Owen
"Ginger X-Ray"
Steve Purvogel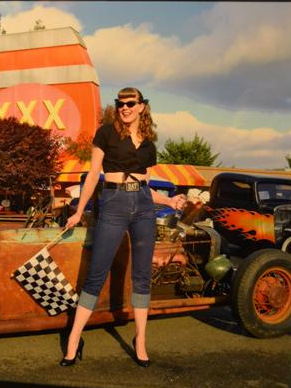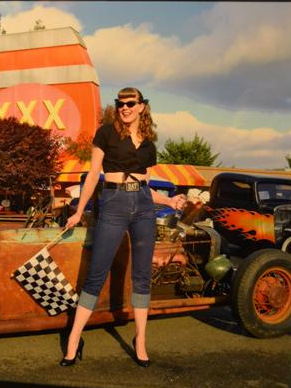 The Pin Up Angels, left to right Becky Lee (in both single photos) and Bitsy Rini and Lulu Belle.
"Roadsters and Rag Tops at the Pick Quick"
"34 Ford 3 Window Coupe"
"1927 Garage"