Perpetual Trophies
The Washington State Hot Rod Hall of Fame Perpetual Inductee Trophy and the Perpetual Club of the Year Trophy each incorporate one of two items that were the only remaining pieces of the original trophy built in 1987.  In the case of the Perpetual Inductee Trophy, it is the Eagle mounted on the top.  The Perpetual Club of the Year trophy uses the original block that the Eagle stood on as the topper for the old trophy, and is the base for the new trophy.

The Perpetual Inductee Trophy began in 1987.  The names of all inductees since 1987 are engraved on plates circling the base of the Perpetual Inductee Trophy.  The Perpetual Club of the Year Trophy had its beginnings in 2009, so all new inducted clubs will have their club name on this trophy.
The rods and pistons on each trophy are nostalgic original "Mickey Thompson" (embossed on the rods) and actually campaigned in Southern California in the 1960's in a drag race car that had some mysterious compression ratio/ horsepower combination.
The trophies were designed by Marv Nielsen and lovingly assembled by Awards Service, Inc.  of Lynwood, WA.  www.dashplaques1.com  The trophies are displayed with great pride in an acrylic case at the "Hot Rod Central" for the Pacific Northwest, the Triple XXX Drive-In in Issaquah, WA. www.triplexrootbeer.com
Photos courtesy of Marv Nielsen, thank you Marv.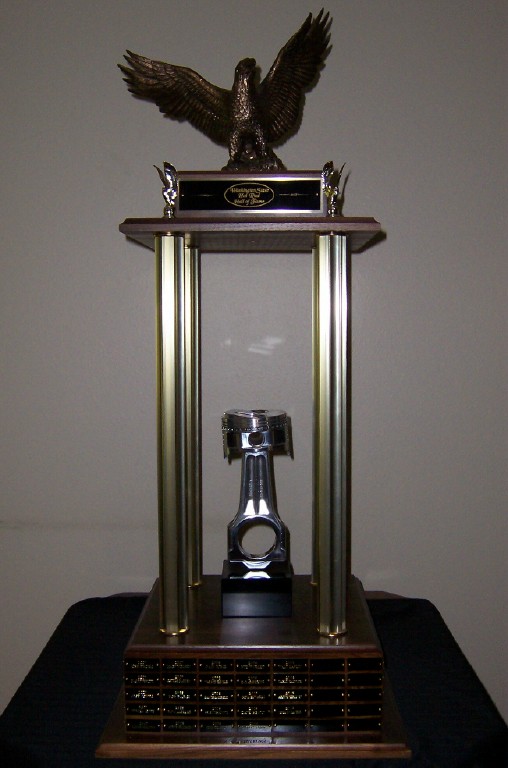 Washington State Hot Rod Hall of Fame Perpetual Inductee Trophy.  Designed by Marv Nielsen, created by Awards Service, Inc. Lynnwood, WA. www.dashplaques1.com 
Washington State Hot Rod Hall of Fame Perpetual Club Trophy, designed by Marv Nielsen, created by Awards Service, Inc. www.dashplaques1.com
These trophies will be displayed at the XXX Drive-In in Issaquah, WA.  www.triplexrootbeer.com
If you would like to order a momento, please contact Bill Barnes, Awards Service, Inc. www.dashplaques1.com